Organization and Structure
Russian Organized Crime Groups and Structure in Russia - In early 1993, the Russian Ministry of Internal Affairs reported there were over 5,000 organized crime groups operating in Russia. These groups were comprised of an estimated 100,000 members with a leadership of 18,000. Although Russian authorities have currently identified over 5,000 criminal groups in that country, Russian officials believe that only approximately 300 of those have some identifiable structure.11 Organized crime groups in Russia are not nearly as structured as those in the U.S., such as the LCN.
Knowledgeable sources within the Financial Crimes Enforcement Network (FinCEN)12 have provided one model of the structure of groups in Russia. The principle behind this structure is to minimize contact with other cells that could lead to the identification of the entire organization.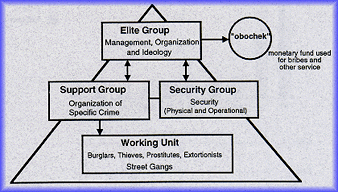 Each boss, called a "pakhan," controls four criminal cells through an intermediary called a "brigadier." The boss employs two spies that watch over the action of the brigadier to ensure loyalty and that he does not get too powerful. At the bottom of the structure are criminal cells specializing in various types of criminal activity or functions such as drugs, prostitution, political contacts, and "enforcers." A similar structure places an elite leadership on top which is buffered by support and security personnel from the street operators who are commifting the crimes. Street operators are not privy to the identity of their leadership. Strategy and planning is done only at the top echelon in order to minimize the risk of detection.
According to law enforcement sources, those structures described above would fall into the old style of Soviet criminal enterprises. It is quite possible as organized crime has changed in Russia, so has the structure of these groups.
Thieves' Code of Conduct - There is a traditional code of conduct within this old style of organized crime in Russia called "Vory v Zakone," or thieves in law. This group existed throughout the Soviet era and continues today throughout the republics of the former Soviet Union. In this society the thieves in law live and obey the "Vorovskoy Zakon," the thieves' code. The members are bound by 18 codes and if they are broken, the transgression is punishable by death.
Law enforcement officials in the former Soviet Union indicate that most of the organized crime groups are well organized with sophisticated technical equipment, computers, transportation, financial support, and an excellent counterintelligence network. Those groups are involved in extortion, precious metal and raw material smuggling, money laundering, fraud, weapons smuggling, narcotics trafficking, and black marketing.
The Thieves' Code
A thief is bound by the Code to:
Forsake his relatives--mother, father, brothers, sisters...
Not have a family of his own -- no wife, no children; this does not however, preclude him from having a lover.
Never, under any circumstances work, no mafter how much difficulty this brings-, live only on means gleaned from thievery.
Help other thieves -- both by moral and material support, utilizing the commune of thieves.
Keep secret information about the whereabouts of accomplices (i.e. dens, districts, hideouts, safe apartments, etc.).
In unavoidable situations (if a thief is under investigation) to take the blame for someone else's crime; this buys the other person time of freedom.
Demand a convocation of inquiry for the purpose of resolving disputes in the event of a conflict between oneself and other thieves, or between thieves.
If necessary, participate in such inquiries.
Carry out the punishment of the offending thief as decided by the convocation.
Not resist carrying out the decision of punishing the offending thief who is found guilty, with punishment determined by the convocation.
Have good command of the thieves'jargon ("Fehnay").
Not gamble without being abie to cover losses.
Teach the trade to young beginners.
Have, if possible, informants from the rank and file of thieves.
Not lose your reasoning ability when using alcohol.
Have nothing to do with the authorities (particularly with the ITU [Correctional Labor Authority]), not participate in public activities, nor join any community organizations.
Not take weapons from the hands of authorities; not serve in the military.
Make good on promises given to other thieves.


Translated from:  Dictionary: Prison, Camp, Blotnoi, Jargon

                         (Speech and Graphic Portraits of Soviet Prisons)

                         Authors-compilers: Dantsik Sergeyevich Baldaev,

                         Vladimir Kuz'mich Belko, and Igor Mikhailovich Isupov.

                         (Occupation of authors unknown.)
Russian Organized Crime Groups in the United States
Although Russian organized crime activity in the United States has been expanding for the past 20 years, its most significant growth has occurred during the past five years. In August 1993, the FBI reported there were 15 organized crime groups in the United States with former Soviet ethnic origins. 13 There is considerable debate in the law enforcement community as to the level of organization and structure of Russian organized crime groups in the United States. Additionally, many of the Russian emigres who are involved in criminal activity in this country may be career criminals specializing in crime areas having little or nothing to do with Russian organized crime groups.
Current information indicates that most Russian organized crime groups are loosely organized and do not have elaborate levels of structure. These groups are often influenced by their ethnic or regional backgrounds. They have formed networks that operate in situations of mutual interest and often shift alliances to meet particular needs.
There is ample information that Russian crime groups operating on the East Coast cooperate and communicate with West Coast groups. Additionally, Russian organized crime groups in the U.S. communicate and operate with organized crime groups in Russia. FBI Director Louis Freeh stated that over 200 of Russia's 6,000-odd crime gangs operate with American counterparts in 17 U.S. cities in 14 states. According to intelligence reports, members of criminal groups in Russia are sent to reinforce and consolidate links between groups in Russia and the United States. Russian organized crime figures are also sent to this country to perform a service such as a gangland murder or extortion.
The following example provides some insight into this activity.
| | |
| --- | --- |
| According to law enforcement sources, Vyatcheslav Ivankov ("Little Japanese") a Russian organized crime leader, was believed to have traveled to the United States to organize ROC groups in the U.S. and establish links to ROC groups in the former Soviet Union. Ivankov is considered to be a highranking organized crime leader, or thief in law, both in Russia and the U.S. Ivankov was arrested in Brooklyn, New York, on June 8, 1995, for trying to extort $3.5 million from a Wall Street investment firm. | Vyatcheslav Ivankov |
Vyatcheslav Ivankov Some descriptions of the more publicized Russian organized crime groups in the United States are as follows:

According to law enforcement sources, there are approximately 300 former Soviet Union crime figures and associates in the San Francisco Bay Area, including San Jose. There are approximately 600 to 800 Russian crime figures and associates in the Los Angeles area, home to the second largest number of Russian immigrants in the United States. These figures include members of the Russian and Armenian organized crime groups.

Northern California Auto Theft Group - A Northern California auto theft group came to the attention of law enforcement personnel in Sacramento and other parts of Northern California, Oregon, and Washington State in early 1993. This group is primarily made up of blue collar type workers from the Ukraine and Western Russia. Specializing in auto theft and VIN switching, younger members of this group steal vehicles while the older members operate body shops. This group utilizes Interstate 5 to travel to Oregon and Washington to sell the stolen vehicle parts to other Ukrainian and Russian criminals. Additionally, this group is becoming involved in extortion, cellular telephone fraud, prostitution, and trafficking small amounts of narcotics. Group members have been known to carry weapons and are becoming increasingly violent.

This group does not appear to have any clear cut, well defined structure, though its members appear to have formed networks and cooperate with each other in their criminal endeavors.

Odessa Mafia - The Odessa Mafia is considered the dominant Russian organized crime group in the United States. This group established itself in the Brighton Beach area of New York City between 1975 to 1981. In the early 1980s the Odessa Mafia sent two sub-groups to San Francisco and Los Angeles with their leadership remaining in Brighton Beach. The San Francisco Bay Area Odessa Mafia group, unlike their southern counterpart, appear to be highly structured and well organized.

Secrecy surrounds their activities and the language barrier creates additional problems for law enforcement authorities. This has resulted in very liftle information concerning the hierarchy, the scope of their operations, and the number of members. This crime group is believed to be involved in extortion, money laundering, fraud, loan sharking, and homicide.

Armenian Organized Crime Groups - The Hollywood area of Los Angeles and the city of Glendale are the focal points for Armenian organized crime activity. This area has the largest Armenian population outside of the Republic of Armenia.

According to law enforcement sources, several Armenian organized crime groups are becoming well organized with a structured hierarchy. There are in excess of 450 members and associates of these groups. These crime groups are involved in extortion, fuel frauds, credit card fraud, murder, kidnap, and narcotics trafficking. One group is believed to have approximately 150-200 members. Several members of this organized crime group were convicted in 1994 in Los Angeles of attempted murder, kidnaping, and extortion. This group is believed to be responsible for extorting a number of victims in the Armenian community.

Russian Organized Criminal Activities in California
11 National Drug Intelligence Center, October 1993 back

12 The Financial Crimes Enforcement Network (FinCEN) was established by the U.S. Department of Treasury in April 1990 as a multi-agency, multi-source financial intelligence and analytical network. back

13 Washington, D.C. Times, August 13,1993 back