Patterns of Global Terrorism: 1998


Eurasia Overview

In Russia, several prominent local officials were killed and some US and Russian citizens were kidnapped in Chechnya and the North Caucasus region. At least some of the killings appeared politically motivated, including the assassination of Russian State Duma deputy Galina Starovoytova and Shadid Bargishev, head of the Chechen antikidnapping squad. Some Chechen insurgents have links to terrorist Usama Bin Ladin.
Georgian President Eduard Shevardnadze survived an assassination attempt by supporters of a former president in 1998. The arrest of some of his attackers provoked further incidents and led to Russian cooperation in the arrest and extradition of an individual alleged to have conspired in planning the attack. The breakaway region of Abkhazia witnessed the abduction of four UN military observers in July and the ambush and wounding of UN observers in September.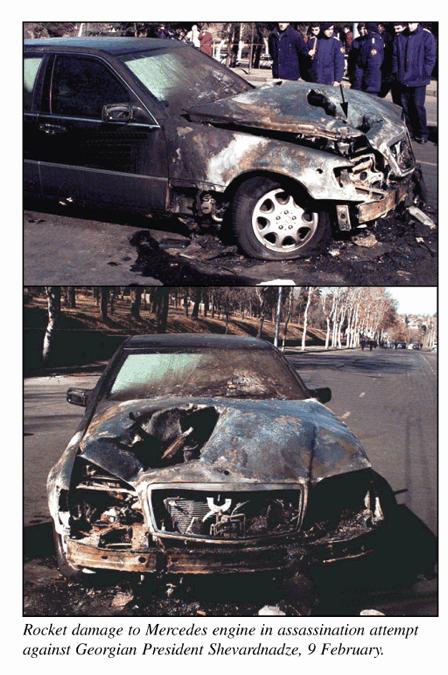 The Kazakhstan Government averted a potential threat to the US Embassy in Almaty by arresting and expelling three Iranian Government agents for illegal activities. Four members of a United Nations mission of observers to Tajikistan were killed while on patrol 150 kilometers outside of Dushanbe. Of the various terrorist incidents that occurred in Tajikistan in 1998, this was of greatest concern to the international community.
Armenia
On 1 April local US Embassy guards discovered and safely disarmed a handgrenade outside the US Ambassador's residence. There was no claim of responsibility.
Georgia
Supporters of deceased former Georgian President Zviad Gamsakhurdia, known as "Zviadists," and ethnic Chechen mercenaries attempted to assassinate Georgian President Eduard Shevardnadze on 9 February. The assailants launched a well-organized attack against Shevardnadze's motorcade late in the evening using rocket-propelled grenades and automatic weapons. Shevardnadze survived the attack--the second against him in three years--but it almost succeeded. Two officers of Shevardnadze's protective service and one of the attackers, an ethnic Chechen, died in the ensuing gunfight. The government arrested 11 of the assailants within days of the attack.
Subsequently, some 15 of Shevardnadze's assailants kidnapped four United Nations observers from their compound in Zugdidi, western Georgia, to ensure the assailants' escape and their colleagues' release. The hostages escaped or were released following a dialogue between the Shevardnadze government and former members of Gamsakhurdia's faction. Some of the hostage takers surrendered, but Gocha Esebua, the Zviadist leader of the assassination team, escaped. According to press reports, Georgian police killed Esebua in a shootout on 31 March after they tracked him to a house in western Georgia.
Georgian officials also apprehended former Gamsakhurdia government Finance Minister Guram Absandze, the alleged mastermind of the assassination attempt. Russian security authorities detained Absandze in Smolensk, Russia, on 16 March and extradited him to Georgia three days later, where he was formally arrested.
Violence in Georgia's breakaway region of Abkhazia accounted for several incidents that involved foreign personnel. In July four UN military observers were taken hostage. On 21 September three UN military observers and their Abkhaz driver were wounded in Sukhumi during an ambush on a clearly marked UN vehicle, according to press reporting. Two of the injured were military observers from Bangladesh, and the third victim was a UN employee from Nigeria.
Kazakhstan
During 1998 the United States and Kazakhstan cooperated to avert potential security threats to the US Embassy in Almaty. In February, Committee for National Security (KNB) authorities arrested--and subsequently expelled--three Iranian Ministry of Intelligence and Security agents for illegal activities. The Government of Kazakhstan did not publicize details of the Iranian agents' activities or prosecute them before their expulsion, however. The US Government and the Government of Kazakhstan signed a joint statement on combating terrorism in November.
Kyrgyzstan
According to press reports, Kyrgyzstani security authorities alleged that Islamic extremists, vaguely identified as "Wahhabis," conducted two bombings in 1998 in Osh, Kyrgyzstan's second-largest city located in the Fergana Valley. On 30 May an explosion occurred in a public minibus, killing two persons and wounding 10, while an explosion in an apartment the next day killed two persons. The motive behind the explosions was unclear because of insufficient information. Nonetheless, Wahhabism, a fundamentalist Sunni Islamic sect originating in Saudi Arabia, never has been widespread in Kyrgyzstan.
Russia
The assassination on 20 November of noted reformist and Russian State Duma deputy Galina Starovoytova by unidentified assailants--possibly a politically motivated contract killing--highlights both the terrorist tactics used by domestic antagonists to influence Russian politics and Moscow's inability to curb this violence. Chechen militants assassinated Shadid Bargishev, head of the Chechen antikidnapping squad, on 25 October in reaction to widely publicized antikidnapping operations in Chechnya's capital, Groznyy. No one claimed responsibility for an explosive device that detonated under Chechen President Aslan Maskhadov's car in June. Maskhadov escaped without injury, but four others were killed in the attack.
At least three US citizens were kidnapped in Russia for financial gain in 1998. On 18 March unknown assailants abducted two US missionaries in Saratov, Russia, took their money and bank cards, and released them on 22 March. No ransom appears to have been paid. On 11 November in Makhachkala, Dagestan, unidentified assailants kidnapped US citizen Herbert Gregg, a member of a nondenominational Protestant organization based in Illinois. Russian authorities continue to investigate the incident.
Numerous abductions occurred in Russia's North Caucasus region during 1998. Most involved ransom demands, although political motives cannot be excluded. Some Chechen groups in 1998 used kidnapping to raise money, and hostages could be sold and resold among various Chechen kidnapping groups, according to Russian officials. Several foreigners and hundreds of Russian civilians and soldiers kidnapped in the region still are missing. On 20 January, Vincent Cochetel, a French citizen who led the United Nations Human Rights Commission's North Caucasus office, was abducted. He finally was released on 12 December. Four British employees of Granger Telecom were kidnapped in early October and on 8 December were found murdered. On 1 May, Valentin Vlasov, President Boris Yeltsin's representative to Chechnya, was kidnapped by unknown assailants. He was released on 13 November.
Mujahidin with extensive links to Middle Eastern and Southwest Asian terrorists aided Chechen insurgents with equipment and training. The insurgents were led by Habib Abdul Rahman, alias Ibn al-Khattab, an Arab mujahidin commander with links to Usama Bin Ladin. Khattab's forces launched attacks against Russian military targets, but their activities in Russia were localized in the North Caucasus region.
Tajikistan
Security for the international community in Tajikistan did not improve significantly in 1998, as a number of criminal and terrorist incidents--including bombings, assaults, and murders--took place. The most serious incident occurred on 20 July when attackers shot and killed four members of the United Nations mission of observers to Tajikistan while on patrol some 150 kilometers east of Dushanbe. Tajikistani authorities later arrested three former Tajikistani opposition members, who initially confessed to the killings but later recanted.
In September the US State Department ordered the suspension of Embassy operations in Dushanbe. The decision was made because of threats to US facilities worldwide following the US Embassy bombings on 7 August in East Africa, turmoil in Tajikistan, and the Embassy's limited ability to secure the safety of US and foreign personnel in the facility.
[end of text]

Patterns of Global Terrorism Contents