---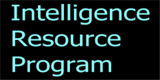 ---
U-125 Peace Krypton
Raytheon Aircraft produces the U-125 search-and-rescue variant of the Hawker 800, which is one of a number of Special Mission Aircraft -- missionized versions of Raytheon commercial aircraft serving special mission roles for the US military and government and its allies. In the military U-125A form, Hawker 800s can serve in a variety of special mission roles, including flight inspection, search and rescue, and maritime patrol. The Hawker 800 series was selected to provide a reconnaissance platform to the Republic of Korea, and the Japan Air Self Defense Force flies the aircraft for search-and-rescue as well as flight inspection. In addition, Hawkers will be used to support the SIVAM rain forest program in Brazil.

Japan was the first country to specify the U-125A special mission version of the Hawker 800, which is the most extensively modified special mission variant of the Hawker aircraft. Specially engineered and equipped for maritime search-and-rescue duties, they include features such as large observation windows on either side of the fuselage, a Toshiba 360-degree radar system, Melco thermal imaging equipment (TIE) system, a flare and marker-buoy dispenser, life raft and an emergency equipment dropping system. Other features include a comprehensive suite of communications equipment and enhanced protection against the salt water environment in which the aircraft operate.

The Paekdu project, budgeted at US$210 million and begun in 1991, was a plan for the acquisition of a communications monitoring reconnaissance plane. In June 1991, the government picked E-Systems, Thompson and Germany's Ritef to bid for the systems, and either the Hawker 800, Citation or Faircon for the possible airframes. In June 1996, then Deputy Minister of National Defence Lee Jong-lin, head of the government analysis team determined that the E-Systems Hawker 800 contract was inferior to those offered by Israel's Rafaele and Thompson of France. In June 1996 E-Systems was awarded the project, the Defence Intelligence Headquarters (DIH) opted for the American system to ensure compatability with USFK systems and the fact that quality was guaranteed by the U.S. government, even though it was more expensive. In December 1997, the Paekdu project ran into crisis when the management team revealed that the aircraft and systems involved had failed to meet 12 requirements of the contract (ROC).

Fourteen Hawkers, heavily modified for maritime search and rescue duties, have been ordered by the Japan Air Self Defense Force. In June 1997 another U-125A order was placed for the Japan Air Self Defense Force (JASDF). The Kanematsu Corporation, Raytheon Aircraft's agent for the U-125A in Japan, exercised options for four additional U-125A airplanes for use by the JASDF. These latest aircraft are slated for shipment in late 1999, and will join 10 other U-125As. There were five U-125As already in service with the JASDF, with five aircraft in production. The total JASDF requirement is for 27 U-125As and, assuming all options are exercised, deliveries will take place through the year 2005. In addition to the U-125As, the JASDF operates three Hawker 800s, under the U-125 designation, for flight inspection duties.

Search and rescue duties are the main peacetime role of long range maritime patrol aircraft, which must be capable of air-dropping inflatable boats with sufficient capacity to deal with the crews and passengers of large vessels. In the U-125A, the life-raft is packed in a tube that can be accessed from the pressure cabin. The tube discharges through the mainwheel bay, requiring the undercarriage to be lowered.

In 1996 a Japanese U-125A was credited late last year for saving the lives of 22 Russian civilian sailors whose ship was foundering in the Sea of Japan. The aircraft was called to assist in locating the Russian cargo vessel, which had issued distress calls and was reportedly sinking. The U-125A located the foundering vessel using its belly-mounted 360-degree search radar and forward-looking infrared thermal imaging equipment.

Raytheon was selected in 1996 to provide a state-of-the-art Peace Krypton System airborne reconnaissance system to the Republic of Korea. The total value to Raytheon could exceed $250 million over the life of the program. The system uses reconnaissance equipment developed and integrated by Raytheon E-Systems installed on four Hawker 800XP jet aircraft made by Raytheon Aircraft. Four additional Hawker 800XP aircraft will also be purchased by the Republic of Korea for similar purposes. These aircraft were assembled at Raytheon Aircraft's Wichita facility, with deliveries commencing in late 1997.

On 10 October 1996 E-Systems, Incorporated, Greenville, Texas, was awarded a $135,292,056 firm fixed price contract to provide for modification of four Hawker 800XP aircraft with sensors to allow them to perform signal reconnaissance missions for Korea. As part of the contract, Raytheon E-Systems will also provide the Republic of Korea with a support facility. US Air Force Aeronautical Systems Center, Wright-Patterson AFB, Ohio, is the contracting activity.

Four Hawker 800 aircraft were modified by Lockheed Martin in Goodyear, Arizona, which provided them with an S.A.R. system and defensive capabilities.

The mission of the Peace Krypton system program (known internally to Lockheed Martin Corporation as the Eagle program) is to collect reconnaissance imagery of selected areas during long range missions using an airborne Synthetic Aperture Radar (SAR) imagery intelligence collection system. The Peace Krypton system processes and transmits FTI (Fixed Target Imagery) and MTI (Moving Target Indicator) data collected from day/night/all-weather operation to ground exploitation facilities. The Peace Krypton system consists of four major subsystems: AE (Aircraft Element), CEES (Central Exploitation Equipment Subsystem), MEES (Mobile Exploitation Equipment Subsystem), and SE (Support Element). The AE includes four Hawker 800XP aircraft with SAR with FTI/MTI capability, airborne mission equipment such as workstation, and image data transmitting equipment. The ground-based, CEES and MEES include central and mobile facilities such as data server, computer peripheral equipment, shelters, ground data link, and workstations for mission planning and exploitation. The SE provides logistics and maintenance to support mission operations.

The Hawker 800XP (Extended Performance), the latest variant of the Hawker 800 mid- size corporate jet, offers superior performance in range and payload. Powered by TFE731-5BR engines and typically configured in an eight-seat executive layout, the 800XP has an NBAA IFR range with six passengers of more than 2,500 nm (4,635 km). Like all versions of the Hawker, the integral strength of the aircraft's design and construction, plus its reliability of operation, makes it an ideal platform for special mission applications.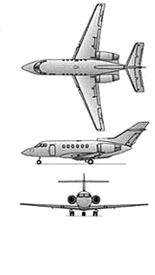 PERFORMANCE
U.S.
METRIC
Max Cruise Speed
466 kt (536 mph)
863 kph
Certified Ceiling
41,000 ft
12,496 m
Max Range
2,615 nm (3,007 m)
4,843 km

ENGINES: AlliedSignal
TFE 731-5BR
4,660 lb



WEIGHTS
Basic operating weight
(Std. BEW plus required
crew at 200 lb)
16,100 lb
7,303 kg
Useful load
12,020 lb
5,452 kg

DIMENSIONS (External)
Wingspan
51.4 ft
15.67 m
Max airplane length
51.1 ft
15.58 m
Max tail height
17.4 ft
5.30 m

DIMENSIONS (Internal) CABIN
Length
256 in
650 cm
Width
72 in
183 cm
Height
69 in
175 cm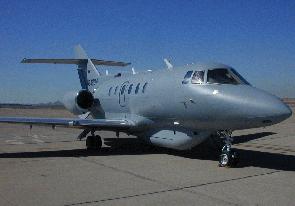 credit: L.P.
Sources and methods
---
---
http://www.fas.org/irp/program/collect/u-125.htm
Created by John Pike
Maintained by Steven Aftergood

Updated June 10, 2002