---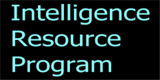 ---
AN/TSQ-152 TRACKWOLF
AN/TSQ-199 Enhanced TRACKWOLF (ET)

The AN/TSQ-152 Special Purpose Receiving System (Trackwolf) provides Commander, U.S. Army Europe, with an organic capability to intercept, locate, exploit, or initially target sources of threat HF voice communications. Trackwolf is a high-frequency (HF) sky wave, intelligence, and emitter location system. This ground-based system can be tailored extensively--from a large, fully capable mobile COMINT field station to a small, elusive, four-vehicle field configuration--to meet a wide range of mission objectives, giving early, reliable, and critical intelligence to the theater commander before initiation of hostilities.
The Trackwolf system comprises two separate interactive subsystems: a Collection and Processing Subsystem (CPS) and a Direction-Finding Subsystem (DFS). The CPS consists of command and control, receiving system, and collection analysis shelters. The DFS consists of a Net Control Station (NCS) collocated with the CPS and three remotely located DF outstations that communicate by landline or HF radio. Trackwolf has two primary missions: signals intercept (performed by the CPS) and direction finding (performed by the DFS). The CPS normally is located in the theater rear area approximately, 200 kilometers behind the Forward Line of Own Troops (FLOT). The system supports Echelons Above Corps commanders by supplying intelligence information to the theater-level All Source Analysis System (ASAS). It communicates with the ASAS at Divisions and Corps through the Single Source ProcessorSIGINT (SSP-S) link. The DFS is capable of both netted Direction-Finding and Single-Station Location (SSL) operations. The CPS is modular, with all components linked together via a Fiber Optical Digital Data Local Area Network (LAN). This allows systems to be tactically sized to meet contingency operational requirements across the spectrum of conflict, ranging from Field Station operations to rapid deployment Corps operations. The hardware within the CPS is a combination of new Non-Developmental Item (NDI) and older field station components. The software is the NDI Conventional Signal Upgrade (CSU) used in field stations.
Trackwolf was fielded in 4QFY92, and the formal material release was completed in 1QFY94. A material change program to fix shortfalls identified in testing began in FY 94. Procurement of a downsized Trackwolf (Enhanced Trackwolf) began in March 1994 and continued until March 1996.
Enhanced TRACKWOLF (ET) AN/TSQ-199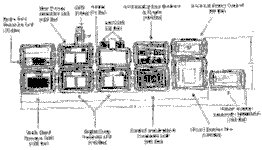 Enhanced TRACKWOLF (ET) is an Echelon Above Corps (EAC) ground based, man-transportable transit case High Frequency direction finding and intercept system. The program was directed by Congress in FY93 as a result of Desert Shield/Desert Storm, during which the current TRACKWOLF system proved too large and cumbersome for rapid deployment. In addition to transportability advantages from the current TRACKWOLF system, ET incorporates several capabilities that will allow intercept of the most modern modulations. The system consists of three stations, each with nine positions each configured as 1 DF, 2 Management/Analysis, and 6 Collection functions. Set-up/tear-down times are less than four hours and each site uses less than 4000 watts. The architecture is designed to be an integration of proven technologies, with extensive use of non-developmental hardware and software.

The Enhanced TRACKWOLF (ET) system, AN/TSQ-199, consists of three automated AN/TSQ-205 stations capable of netted or stand alone operations. Each AN/TSQ-205 is a rapid deployment station capable of conventional and LPI COMINT collection and direction finding. The AN/TSQ-205 is a versatile station that can be configured to meet changing operational needs. A wideband digital system is the heart of each AN/TSQ-205 and each station can have up to 9 operator positions to preform any mix of management, analysis, collection, and direction finding(DF) functions. ET with all three stations can be configured for leapfrog movement, with One station assuming the duties of net control, while another station is in the process of relocating to another site. ET can communicate externally through SINCGARS LPI VHF radio, AUTODIN/DSSCS, TROJAN SPIRIT II, Single Source Processor-SIGINT, CROSSHAIR, UHF MIL SATCOM Transceiver (DF Flashnet). ET is planned to support Army-wide conflicts and special missions and will be fielded to Echelons Above Corps(EAC).

Projected future activities include procuring and fielding a satellite communications capability for the Direction Finding Subsystem outstations, as well as fielding a capability that provides interconnectivity between Trackwolf, Navy, and National Security Agency direction finding nets.
| | | | | | | |
| --- | --- | --- | --- | --- | --- | --- |
| EVENT SCHEDULE FISCAL YEAR | 96 | 97 | 98 | 99 | 00 | 01 |
| QTR | 1 2 3 4 | 1 2 3 4 | 1 2 3 4 | 1 2 3 4 | 1 2 3 4 | 1 2 3 4 |
| Production | ----2 | | | | | |
| FAT | 2 | | | | | |
| Delivery | 2 | | | | | |
| Customer Test | | 1 | | | | |
| FUE | | 1 | | | | |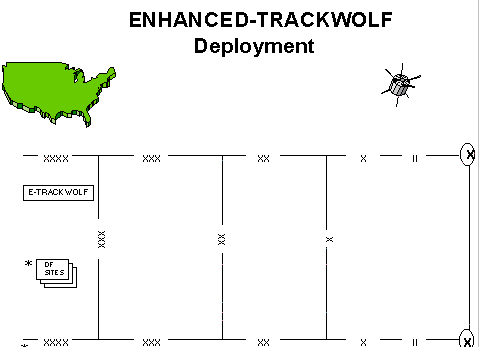 SYSTEM SUMMARY
FEATURES:
. Targets HF:
. Products:

' COMINT
' Technical rpts

. Transit case mounted
. Supports EAC commanders
. Capable of long distance comms w/organic resources
. DF stations can operate independently or netted
. Open architecture
. Scaleable tier I-III
PHYSICAL PARAMETERS:
. Per Station:

' Operational temp- 00-490C(+320-1200F)
' Weight: 2769 lbs.
' Power: commercial, field generator, 28v DC H-HMMWV
PERFORMANCE & CHARACTERISTICS:
. Digital signal processing
. Instant signal acquisition,recognition, targeting, & reporting
. Captures entire HF spectrum
. Quickfire through ACE to shooters
. Improved direction finding
. Operates against modern modulations and LPI signals (PPI)
PRIME CONTRACTOR: Technology for Communications International (Fremont, CA)
Sources and Methods
---
---
http://www.fas.org/irp/program/collect/trackwolf.htm
Created by John Pike
Maintained by Steven Aftergood

Updated Wednesday, February 23, 2000 7:51:28 AM