---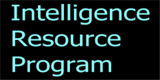 ---
RIVET BRASS
USAF Boeing RC-135 COMINT aircraft.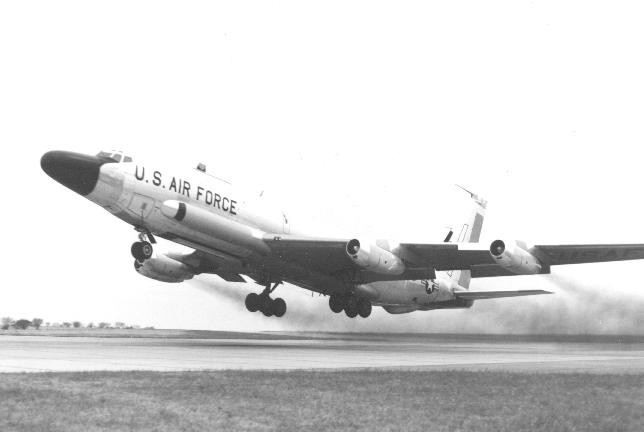 RC-135D Rivet Brass Take-off 09/07/02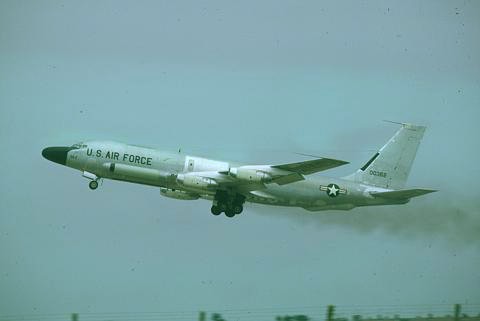 Rivet Brass A
Both USAF photos courtesy of Anthony M. Barnes in Honolulu

Anthony M. Barnes writes:
Here's the basic story: one KC-135A tanker and three C-135A transports underwent conversion to RC-135D during 1962-1963. This conversion program was called Rivet Brass in conformance with the Air Force rules for names of black budget projects.

A testbed NKC-135A with the tail number 55-3132 apparently flew the first thimble nose radome and fence style antennas on the top fuselage centerline before Air Force Systems Command accepted the overall aerodynamic design.

All four Rivet Brass A/C retained the original Pratt and Whitney J57-P-59W engines that limited their range to less than 9,950 miles. This was adequate for combat missions during the Viet Nam war, and these aircraft flew Combat Apple missions from Kadena AB, Okinawa. This is how I knew them.

One RC-135D, tail number 59-1491, was converted to a RC-135S Cobra Ball, and the surviving RC-135D aircraft were converted back to KC-135A tankers probably by Boeing Military Aircraft Company at Wichita KS.[But see here and here.]

These tail numbers come from a Boeing production number catalog from 1960:

 
18131		C-135A 			60-0356   Transport to
CONV.		KC-135R			60-0356 Camera Reconnaissance to
CONV.		RC-135D			60-0356  Rivet Brass

18132		C-135A			60-0357  Transport to
CONV.		KC-135R			60-0357 Camera Reconnaissance to
CONV.		RC-135D			60-0357  Rivet Brass

18137		C-135A			60-0362 Transport to
CONV.		KC-135R			60-0362 Camera Reconnaissance
CONV.		RC-135D			60-0362  Rivet Brass
 
?????		KC-135A			59-1491 Tanker to  
CONV.		RC-135D			59-1491   Rivet Brass
CONV.		RC-135S			59-1491   Cobra Ball
 
NKC-135B	55-3132			assigned to the 418FLTS at Edwards AFB, CA
					aircraft is stationed at Kirtland AFB, NM 
					and used for the Big Crow Program
 

Tail number 59-1491 started out as a KC-135A and was delivered to Wright-Patterson AFB on Oct. 1, 1960 for conversion to a JKC-135A named "Nancy Rae".

After modifications, Nancy Rae deployed to Shemya on New Years Eve 1961 to record Soviet ICBM launches into the Kamchatka peninsula.

On March 1, 1963 Nancy Rae was transferred from AFSC to SAC and was converted by General Dynamics to an RC-135S (First of its kind) and renamed "Wanda Belle". The name "Wanda Belle" was changed to "Rivet Ball" in early 1967. Rivet Ball crash landed (January 13, 1969) on Shemya after returning from an operational mission.

Rivet Ball (Tail #59-1491) never flew again. Her remains ended up in the "Million Dollar Dump".
Jennings Heilig writes:
In your page on the Rivet Brass RC-135D aircraft, the author perpetuates a long-standing chestnut that is incorrect. He states:

"One RC-135D, tail number 59-1491, was converted to a RC-135S Cobra Ball, and the surviving RC-135D aircraft were converted back to KC-135A tankers probably by Boeing Military Aircraft Company at Wichita KS."

This is not correct. Serial number 59-1491 was never converted to an RC-135D Rivet Brass (then known as Office Boy) platform. It was, in fact, the first reconnaissance configured KC-135 airframe, and was used by AF Systems Command as early as 1961 for testing equipment used to track ballistic missile reentries. The line between a testbed (owned by AFSC) and a reconnaissance platform (owned by SAC) was very fuzzy with this aircraft, and it undertook live recce missions with AFSC members and contractors aboard. It was later redesignated RC-135S and went by the program name Wanda Belle, and later Rivet Ball before it crashed at Shemya AFS in January of 1969.

There is a good possibility that AFSC may have designated it as a JKC-135A at some point, although paperwork proving this has not surfaced. What is known for a fact is that by 1965 it had been designated an RC-135S.

The three Office Boy/Rivet Brass aircraft were all converted from the three "falsie" C-135As that were produced by delivering standard KC-135A tankers without any refuelling gear. These three aircraft were considered something of 'bastard children' since they were not to the MATS C-135A transport spec, and SAC didn't want to spend the money to re-convert them to tankers. Thus, they were chosen to be converted to the first SAC C-135-based SIGINT collection platform (a completely different mission from the RC-135S). Ironically, late in their lives, all three (60-356, -357, and -362) were converted to KC-135R tankers and flew from Grissom AFB, Indiana.
John Achor writes:

C. Wayne Dauber writes:
I just found out about this group of web sites, thanks to an email from Bill Crossland, and would like to offer some more information about the Eielson-based aircraft.

First, there were at least two other RC-135D deployments to Kadena AB in addition to the one John Achor described. I was at Eielson AFB from Sept 1969 trough June 1972 and took 60-0362 to Kadena in March 1970 where we flew four Combat Apple sorties, all of which ran about 18.4 hours. The mission was as John describes it, by taking a tanker out with us for a top off before going work and getting a little bigger helping of fuel from the two tankers normally supplied we could stay in the operational area almost as long as the RC-135M models could with their fan engines and just two tankers. Although missions of over 15 hours with an un-augmented crew were not uncommon in the "D" models out of Eielson these four missions and one in 357 from RAF Mildenhall to Offutt AFB in 1974 were the only ones I flew over 18 hours.

Later in 1970 my crew and Jim Brady's crew deployed an RC-135D to Rhein Main AB, Germany, which was a facility that shared the Frankfort International Airport's runways. The performance limitations of the J-57 powered aircraft quickly made us unpopular visitors. Tanker support was not available and we were tasked with flying the longest practical durations un-refueled. Naturally this meant taking off at the heaviest possible weight for the runway available. Jim's crew had the first mission out of Rhein Main and unfortunately the runway in use had a slight tailwind that morning, making it impossible to take off in that direction. After a rather protracted conversation Jim was cleared for an opposite direction takeoff. Necessary in this case, but not a popular demand at a busy international airport. Having taken off in the opposite direction to normal traffic he was restricted from climbing until clear of some inbound traffic, which meant he was unable meet several required altitudes further along in the departure, significantly increasing the workload of a very frustrated controller who was obviously happy and relieved to finally get our aircraft out of his airspace. Some days nothing seems to go right and shortly after being handed off to another controller Jim had to shut down an engine, forcing him to abort the mission and return to Frankfort. That put him back in the previous controller's airspace in time for Jim to advise the controller he needed to dump about 30,000 lbs (4,500 gal) of fuel to get down to landing weight. Another really unpopular request. We took off at lighter weights for the rest of the missions out of there, which allowed us to blend more easily with the rest of the airborne traffic but we understand the city fathers made it very clear that we would not be welcome to come back. Perhaps the fact that ours was the first, and probably only, aircraft to set off the noise monitor devices at both ends of the runway had something to do with that.

I also flew the Cobra Ball aircraft (61-2663) from Sep 1970 to March 1972. Each week a Cobra Ball crew would fly a KC-135 out to Shemya to replace the old crew who would then fly the KC-135 back to Eielson AFB. 61-2664 should up at Eielson shortly before I left and the only flight I had in it was to train some crew member transitioning to the "S" model aircraft.

I never flew Rivet Amber but I had the privilege of flying with a number of her crew members, including several who were lost with the aircraft in 1969.
Sources and Methods
---
---
http://www.fas.org/irp/program/collect/rivet_brass.htm
Maintained by Steven Aftergood
Created by John Pike
Updated November 25, 2007