---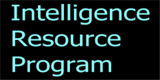 ---
Pioneer Short Range (SR) UAV

After having been impressed by stories of Israeli successes with UAVs in the early 1980s, the Navy initiated an expedited procurement of UAV systems. Pioneer was procured starting in 1985 as an interim UAV capability to provide imagery intelligence (IMINT) for spotters for naval gunfire support from its battleships (originally launched from Navy Iowa-class battleships, today from LPD-class ships), as well as provide a UAV capability for the Marine Corps.

Pioneer was procured starting in 1985 as an interim UAV capability to provide imagery intelligence (IMINT) for tactical commanders on land and at sea. In ten years, Pioneer has flown nearly 14,000 flight hours and supported every major U.S. contingency operation to date. It flew 300+ combat reconnaissance mission during Persian Gulf operations in 1990-91. Since September 1994, it has flown in contingency operations over Bosnia, Haiti and Somalia; most recently it flew in Task Force Eagle and IFOR operations again over Bosnia.

Pioneer skipped the traditional U.S. development phase of the acquisition process, and nine systems, each with eight air vehicles, were procured beginning in 1986 at an estimated cost of $87.7 million. Similar to Aquila, Pioneer is a small, propeller-driven aircraft.

The Pioneer began to encounter unanticipated problems almost immediately. Recovery aboard ship and electromagnetic interference from other ship systems were serious problems that led to a significant number of crashes. The Pioneer system also suffered from numerous other shortcomings. Ultimately, the Navy undertook a $50 million research and development effort to bring the nine Pioneer systems up to a level it described as a "minimum essential capability."

Pioneer is a Department of Defense joint system, having been flown by the U.S. Navy, Marine Corps, and Army. The U.S. Navy and Marine Corps are currently flying Pioneer from LPD class naval vessels and land based operations. First deployed in Dec 1986 aboard the Navy's battleship USS IOWA, the Pioneer is currently assigned to support ship-deployable USN detachments, both East and West coast, two USMC companies, plus testing and training units. Successful deployments have been accomplished by the USN aboard battleships, by the USMC aboard amphibious ships and on land by the USA.

Although Pioneer has never met objective requirements, in the first ten years of service, Pioneer flew nearly 14,000 flight hours and supported every major US contingency operation. The Pioneer system has seen operational use in U.S. contingency operations since the system's original fielding in 1986. Since September 1994, it has flown in contingency operations over Bosnia, Haiti and Somalia; most recently it flew in Task Force Eagle and IFOR operations again over Bosnia. Pioneer flew 1,895 hours in FY-1998, and as of 19 November 1999 Pioneer had accumulated over 20,000 program total flight hours.

It flew 300+ combat reconnaissance missions during Persian Gulf operations in 1990-91. The system received extensive acclaim for outstanding performance in Operation Desert Shield and Desert Storm. The high point of Pioneer's operational history was its unprecedented success during Operation Desert Shield/Desert Storm. Army, Navy, and Marine Corps commanders lauded the Unmanned Aerial Vehicle for its effectiveness as a RSTA, Naval Gunfire Support, BDA, and battlefield management platform. During the Gulf War all the UAV units at various times had individuals or groups attempt to signal the Pioneer, possibly to indicate willingness to surrender. The most famous incident occurred when the USS MISSOURI, using her Pioneer to spot 16 inch rifle fire, devastated the defenses of Faylaka Island off the coast near Kuwait City. Shortly thereafter, while still over the horizon and invisible to the defenders, the USS WISCONSIN sent her RPV over Faylaka Island at low altitude. When the Pioneer came over the island, the defenders heard the obnoxious sound emitted by the two cycle engine, because the air vehicle was intentionally being flown low to let the Iraqis know that they were targeted. Recognizing that with the "vulture" overhead, there would soon be more of those 2000 pound naval gunfire rounds landing on their positions with the same accuracy, the Iraqis made the right choice and, using handkerchiefs, undershirts, and bedsheets, they signaled their desire to surrender.

DESERT SHIELD/STORM SUMMARY
TOTAL DESERT SHIELD/
STORM OPS

DESERT STORM
OPERATIONS

TOTAL LOSSES
| | | | | | | | | |
| --- | --- | --- | --- | --- | --- | --- | --- | --- |
| UNIT | DATES | SORTIES | FLT HRS | DATES | SORTIES | FLT HRS | DAMAGED | DESTROYED |
| 1STRPVCO | 9/26-3/3 | 107 | 334.8 | 1/16-3/3 | 62 | 232.7 | 7 | 1 |
| 2DRPVCO | 11/27-3/1 | 69 | 226.6 | 1/16-3/1 | 55 | 192.4 | 2 | 3 |
| 3DRPVCO | 8/15-3/2 | 160 | 424.1 | 1/16-3/2 | 79 | 271.3 | 4 | - |
| RPV DET 1 | 8/7-3/3 | 99 | 347.6 | 1/16-3/3 | 32 | 97.8 | 2 | 2 |
| RPV DET 2 | 11/3-3/3 | 64 | 209.7 | 1/16-3/3 | 39 | 134.0 | - | 6 |
| UAVPLT | 2/1-3/3 | 46 | 154.9 | 1/16-3/3 | 46 | 154.9 | 3 | - |
| TOTAL | 8/7-3/3 | 545 | 1697.7 | 1/16-3/3 | 313 | 1083.1 | 18 | 12 |
Currently, there are nine systems in the active force: the Navy operates five, the Marine Corps three, and one is assigned to the Joint UAV Training Center (JUAVTC) at Ft. Huachuca, AZ. An additional 30 Pioneers (procured in FY 1994) were delivered from September 1995 through November 1996, along with continuing support kit and spares procurement. These aircraft are in the Option 2+ configuration, which has slight increases in air vehicle weight and fuel capacity. A third extension of the Pioneer force's operational life is being planned through FY2003, until TUAV systems are fielded DOD plans to phase out Pioneer when the Tactical UAV [Outrider], which is in development becomes available.

The new replacement Payload the DS-12 EO/IR received Government production approval August 1998. The DS-12 offers improved reliability over existing Moked-200 (DAY TV) and Moked-400 (FLIR)

The prime contractor is Pioneer UAV, Inc., Hunt Valley, MD, a joint venture of an American and Israeli firms.
Manufacturer:
AAI
Runway (ISA):
improved: 2000 ft. x 80
RATO:
yes
Dimensions:
length-168.0 in.
span-202.8 in.
height- 39.6 in.
A/Vs in Baseline:
5
Data Link:
Frequency: C-band/UHF
Line of Sight: yes
Satellite: no
GPS:yes
Range:
185 km on GCS
40 km on PCS
Power Plant:
27 hp Sachs
2 stroke, pusher
Fuel:
type- 100 LL avgas
capacity- 40 liters
Endurance:
3.5 - 4 hours
Payloads:
CCD (daylight only)
FLIR (day-night)
only one at time
Operational
Altitudes (ISA):
to 15,000 ft. MSL
Speeds:
stall- 52 kts
cruise- 65 kts
dash-110 kts
Max. Gross
Take-off Weight:
450 lbs
Weather limits:
T/O cross winds-15 kts
T/O head winds- 25 kts
rain-no
visible moisture-no
icing-no
turbulence-light
Auto. Return Home
on Data Link Loss:
yes
Emergency Recovery:
none
Relay Flight
Capability:
no
Multiple AV Control:
yes:
autonomous flight
Control Transfer
to Another Shelter:
yes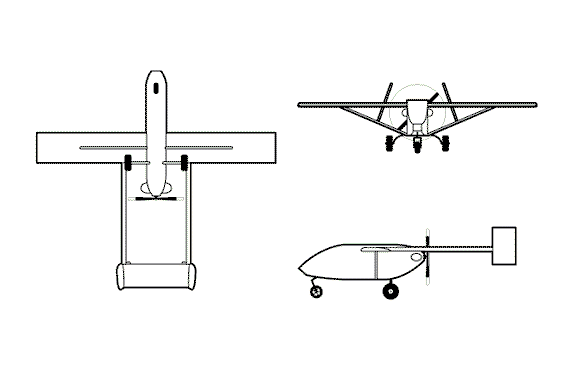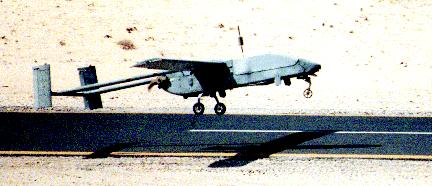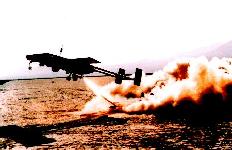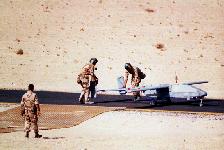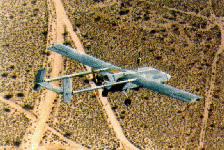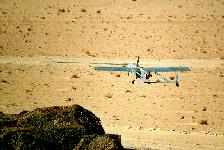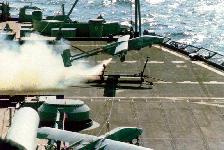 Aboard Ship

Pioneer Mounted on
RATO Stand

VC-6 Det 1 Aboard
USS Missouri Nov 90

Manuvering Pioneer
onto the RATO Stand

Flight

Pioneer with Ground
Station Below

Pioneer Fly By

Pioneer on Night
Approach Landing

Ground Control Station (GCS)

TV Monitor Panel;
Pilot Display Panel;
Pilot Control Desk

GCS Console - Observer Bay(L), Traker Bay (C)
Pilot Bay (R)

Recovery

Pioneer "Catching" the Recovery Net During
LPD Ship Ops

Pioneer being Lowered
to the Deck Following
Net Recovery

Miscellaneous

Saches & Fichtel
SF 2-350 26 hp Engine

Image of Kuwaiti Coast taken by Pioneer from USS Wisconsin, Jan 91. "Free Kuwait" made from 55 gal oil drums

Pioneer Base
Operational Units
Sources and Methods
---
---
http://www.fas.org/irp/program/collect/pioneer.htm

Created by John Pike
Maintained by Steven Aftergood
Updated Sunday, March 05, 2000 9:14:48 AM