---

U-2 pilot shatters world record
Released: 23 Dec 1998
---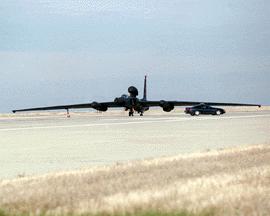 Maj. Alan Zwick, 9th Reconnaissance Wing, Beale Air Force Base, Calif., prepares to take off in his U-2 reconnaissance aircraft. During his historic flight he shattered a 19-year old world record by flying his U-2 and payload to an altitude of more than 12 and a half miles above the Earth's surface. The record-setting flight took place Dec. 12. (Photo by Senior Airman Johnny Saldivar)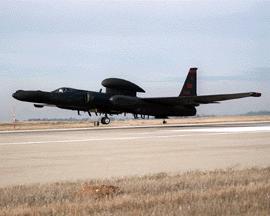 The U-2 reconnaissance aircraft, piloted by Maj. Alan Zwick, lifts off on its record-setting flight. Fifty-eight minutes into his flight, Zwick and the aircraft were just over 66,800 feet, roughly 38,287 feet higher than the previous record of 28,513 feet, set by a Czechoslovakian pilot in 1979. (Photo by Senior Airman Johnny Saldivar)
by Senior Airman Kati Garcia
9th Reconnaissance Wing Public Affairs
BEALE AIR FORCE BASE, Calif. (AFPN) -- A pilot from the 1st Reconnaissance Squadron shattered a 19-year old world record Dec. 12 when he flew his U-2 and payload to an altitude of more than 12 and a half miles above the Earth's surface.
At 11:16 a.m. PST, Maj. Alan Zwick, a U-2 instructor pilot, landed the aircraft, and with it a spot in the world record books.
The previous record, held by a Czechoslovakian pilot flying the Yakovlev 40, was set Feb. 24, 1979 when pilot Rudolf Fiam flew to an altitude of 28,513 feet with a payload of 4,400 pounds of weight.
Zwick surpassed that record just 12 minutes into his 1 hour 55 minute flight and continued to climb. Fifty-eight minutes into the flight, Zwick and the aircraft were just over 66,800 feet -- roughly 38,287 feet higher than the Czechoslovakians were able to reach 19 years ago.
"There are a lot of planes out there that could have broken this record, they just didn't try," said Maj. Doug Dillard, a 1st RS U-2 instructor pilot.
Brig. Gen. Charles Simpson, 9th Reconnaissance Wing commander, summed up the mission later that evening when he said, "this record demonstrates out in the open what we can and do achieve on a daily basis."
"We would have never gotten this mission off the ground if it were not for the tremendous support of our maintenance personnel," Dillard said. "These guys had the difficult task of weighing each sensor and piece of equipment prior to installing it on the lane."
Dillard added that to achieve the record, the payload didn't have to be installed in an operational configuration, but since it was, the task of loading the aircraft was that much more difficult.
Master Sgts. Anthony Bircham, 99th Reconnaissance Squadron B-section chief, and William Spinks, 9th Operations Group chief inspector for quality assurance, were key in the record attempt, according to Dillard.
"These guys really worked hard to make sure we could pull this off without any snags," he said.
While people at Beale knew upon Zwick's landing that he had shattered the record, it took a little while longer for the inspector to verify it.
Ted Kelly, a National Aeronautic Association chief inspector, was required to witness the actual downloading of the aircraft's flight data recorder, which he then hand-carried to the Lockheed plant in Palmdale, Calif., where a team of experts reviewed the information and verified the record.
While this is an official record, it isn't exactly an unheard-of feat. Zwick said U-2 aircraft accomplish it several times a day almost every day of the week.
So why do it for the record now?
"We just wanted to make it official ... let the world know we can," Dillard said.
"I'd just like to see someone come and try to beat our record now," he added.

RELATED SITES

* U-2
* Beale Air Force Base, Calif.