---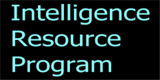 ---
CLASSIC OUTBOARD AN/SSQ-108(V)
Cooperative OUTBOARD Logistics Update (COBLU)
CLASSIC OUTBOARD [Organizational Unit Tactical Baseline Operational Area Radio Detection Countermeasures Exploitation System] is a US Navy shipboard direction finding system. OUTBOARD provides electronic warfare signals acquisition and direction finding systems (AN/SRS-1) with the capability to detect, locate, identify hostile targets at long- range, and input this information into the ships tactical data system. This widely deployed system consists of the SSQ-108 Outboard VHF Adcock direction finding antenna as well as 24 small deck edge antennas for LF/MF-HF band direction-finding. The design of combat DF is based on the proven technology of OUTBOARD but provides greater flexibility and responsiveness to new threat signals while reducing space and manning requirements. Block 0 provides narrowband step-search Signal acquisition and DF against conventional communications signals. The automated digital acquisition system (ADAS) integrates with Block 0 as a modular subsystem and provides the foundation for exploitation of unconventional and low probability of intercept (LPI) signal types. The OUTBOARD system is currently ineffective against elements of the current/projected threat environment which includes counter narcotics operations. Its equipment is old and becoming expensive to maintain. An outboard logistic update program was established to correct these deficiencies. An approved program management proposal by replacing outdated equipment, establishing a common logistic support baseline, upgrading the subsystem Direction Finder (DF) via an acquisition hardware/software engineering change proposal (ECP) to increase throughput speed, DF on skywave signals, and modernizing the subsystems. A joint cooperative program between the United States and the United Kingdom was established 1 July 1994 with a Memorandum of Understanding (MOU) being signed by both governments. The cooperative outboard logistics update (COBLU) program provides upgrades to the existing outboard system (AN/SSQ-108) to provide comprehensive surface tactical (CESM) capability to the 21st century. The program will make maximum use of already developed military and commercial signal exploitation equipment. The systems architecture will require minimal effort to implement future technologies necessary to handle the evolving threat. Program is being executed in two phases; phase 0 is an interim update that focuses on transitioninghHuman computer interface (hci) to a joint maritime command information system (JMCIS) environment and integrating with dfecp. Phase 1 focuses on a total update of front-end sensors.
fy 96 funds installed the hardware which was procured in fy 95.
fy 97 funds will procure production support required to prepare the contract documentation necessary to procure the hardware required in fy 98.
fy 98 funds will procure three direction finding kits with unit cost increasing due to stop in production in fy 96 and fy 97. Also fy 98 will fund the navy Share of the non-recurring engineering costs associated with the COBLU phase 1 system as cited in the mou. The UK. will procure 5 systems in fy 98.
fy 99 funds will procure three COBLU phase 1 systems and production support. Install three df ecp kits procured in fy 98.
The Cooperative OUTBOARD Logistic Update (COBLU) Phase 1 system configuration consists of no more than seven racks of equipment with five operator positions. COBLU Phase 1 will be designed to promote an open system architecture. The system uses industry-standard hardware, software, interfaces, and Joint Maritime Command Information System (JMCIS)-compliant segments. Hardware and software components will be functionally independent (segmented) to provide ease of portability to other platforms, easy upgrading as the mission or threat evolves, and less maintenance risk. Thus, changes to one segment do not ripple through the entire system. Creating JMCIS-compliant software enables COBLU Phase 1 to use and extend the existing library of cryptologic software. JMCIS is the Common Operating Environment (COE) upon which COBLU Phase 1 will be developed. This environment includes a standard operating system and display style guide. JMCIS/Cryptologic Unified Build (CUB) compatibility testing will take place at the Naval Command, Control and Ocean Surveillance Center (NCCOSC), Research, Development, Test and Evaluation Division (NRaD). Shipboard testing will take place in a live signal environment.

Program technical requirements, covered in detail in the Space and Naval Warfare Systems Command (SPAWAR) COBLU Phase 1 Functional Requirements Document involve:
Providing signal conditioning to permit operation in a strong signal environment.
Replacing the acquisition equipment with an acquisition subsystem to accommodate and prosecute detection and recognition of current and new signals of interest (SOIs).
Upgrading the direction finding (DF) subsystem to accommodate current and new SOIs.
Providing embedded operator and maintenance training aids.
Providing a JMCIS-compliant system design.
Deployment
The inventory objective is 24 OUTBOARD:
18 shipboard
6 shore

2 for training at naval technical training center (NTTC) Pensacola, FL
1 for fleet trainer device - FCTCPAC San Diego, CA
1 for fleet trainer device - FCTCLANT Dam Neck, VA
1 for software support activity
1 for land base test facility for ECP support)
Lockheed Sanders of Nashua NH is the prime contractor.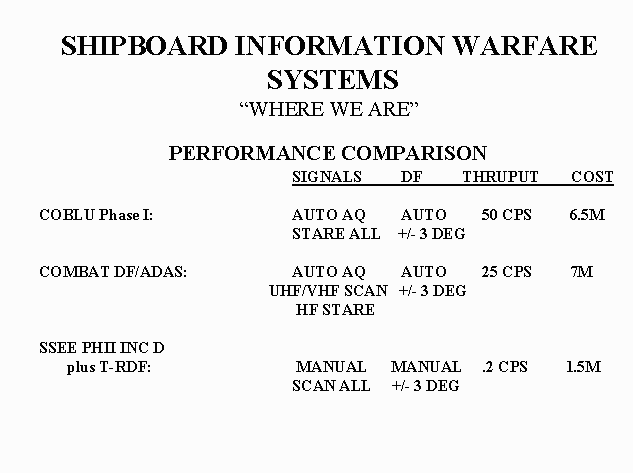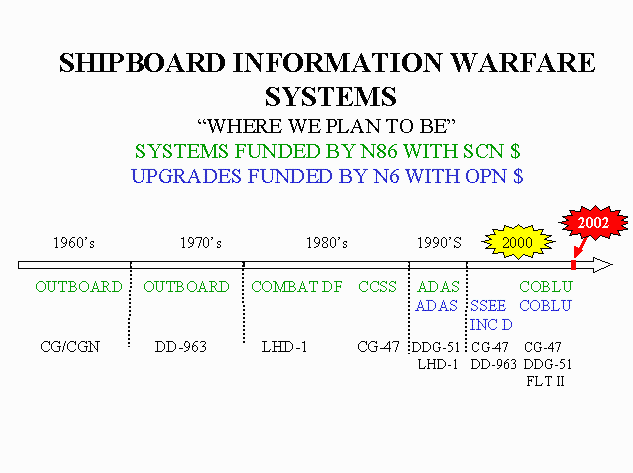 Related Programs
Sources and Methods
---
---
http://www.fas.org/irp/program/collect/classic_outboard.htm
Created by John Pike
Maintained by Steven Aftergood

Updated Friday, February 11, 2000 1:00:09 PM