---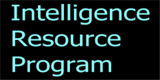 ---
AN/SRS-1A(V)
Combat Direction Finding
The Navy's Combat Direction Finding system is an automated long range hostile target signal acquisition and direction finding system that can detect, locate, categorize and archive data into the ship's tactical data system. Combat DF greatly improves on existing Outboard system technology by providing greater flexibility against a wider range of threat signals and increased reliability at lower cost through use of Commercial Off-The-Shelf workstations. The Combat DF Block 0 (AN/SRS-1) electronic support, signal acquisition, and direction-finding system provides warship commanders near-real-time indications and warning, situational awareness, and cueing information for targeting systems. The CDF system deployed in the theatre will provide Indications and Warnings (I&W) to support Over-The-Horizon-Targeting (OTH-T).

The Operator Interface CSCI provides the operator the ability to analyze and control the system, dynamically tune local receivers to frequencies of interest, control the CDF TACINTEL Terminal, view system data management and signal-parameter-type displays, and monitor overall system status.

The Combat Direction Finding Block 1 system (AN/SRS-1A(V)) is comprised of two major subsystems: AN/SRS-1(V) or CDF Block 0, integrated with an Automated Digital Acquisition Subsystem.

AN/SRS-1(V) which is the basic shipboard direction finding architecture features include: Improved, more robust HF DF deck-edge antenna array, Mast-mounted VHF-UHF antenna, Narrowband signals exploitation, Architecture which facilitates LAN connectivity, and Skywave capability. The Automated Digital Acquisition Subsystem (ADAS) features the following:
Full digital 'Front-end Stare' parallel architecture,
Programmable exotic signal recognizer,
Wideband signals exploitation,
Mixed mode DF, and
the ability to integrate new signal recognition algorithms.
AN/SRS-1A (V) successfully completed DT and OT in summer 1994; MS III decision was granted in December 1994. The system is currently in a multi-year Full Production contract. Block 0 full-rate production began in the third quarter FY 1993. Block 0 is currently being installed during new ship construction in Wasp (LHD-1) and Arleigh Burke Flight II (DDG-72 and follow-on)-class ships. Installation is complete in LHD-1 through LHD-4 and will continue on LHD-5 and DDG-72.
Block 1 full-rate production approval was received in FY 1995, with backfit/installation on LHDs and DDG ships beginning in FY 1997. The Block 1 system will eventually outfit six LHDs, 26 DDG-51 Flight IIs, and five shore sites. Block 1 is now in Full-Rate Production and is being installed during new ship construction on Wasp (LHD-1) and Arleigh Burke Flight II (DDG-72 and follow-on)-class ships. Block 1 systems are also being installed as back-fits on in-service LHDs and DDG-51s. The Block 1 system will eventually outfit seven LHDs, 35 DDG-51 Flight IIs, and three shore sites.
Beginning in FY 2000, Combat DF will be superseded by the Cooperative Outboard Logistics Update (COBLU) Phase 1 system during construction of DDG-51 class destroyers. COBLU will provide an even greater level of capability for processing modern signal modulations.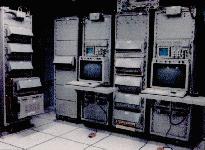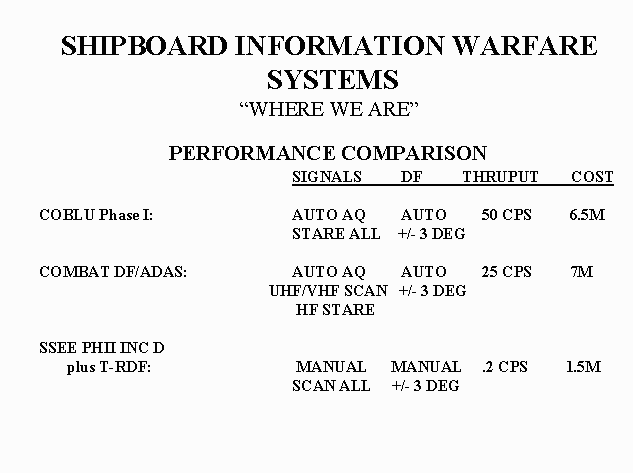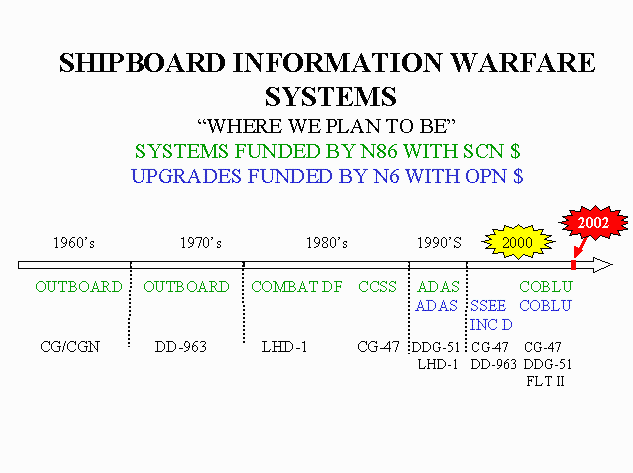 Sources and Methods
---
---
http://www.fas.org/irp/program/collect/cdf.htm
Created by John Pike
Maintained by Steven Aftergood

Updated Saturday, January 08, 2000 4:00:24 PM