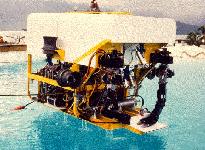 Advanced
Tethered
Vehicle
(67 K)

The Advanced Tethered Vehicle (ATV) is a tethered, unmanned vehicle system designed for operation at depths as great as 20,000 feet. The ATV work package includes a pair of TV cameras arranged on a pan-and-tilt to provide a stereo or 3-D view of the work area. Two master-slave manipulators provide both position control and force feedback. The work system also includes a sophisticated package consisting of a spreader, drill motor, wrench and rotary saw. A grabber is also included on the work platform for maintaining position with respect to objects upon which work is being done.

ATV also has an obstacle avoidance sonar and a CTFM sonar for target acquisition. The state-of-the-art 23,000 ft. cable includes power conductors, fiber-optic signal conductors, and a kevlar strength member.

The ATV was designed and built at the SSC San Diego's Hawaii laboratory as a follow-on to the Remote Unmanned Work System (RUWS). It was tested and evaluated along with the Advanced Unmanned Search System (AUSS) at NRaD San Diego. It was then transferred to the Submarine Development Group One (SUBDEVGRU ONE) in San Diego in February of 1993, with SSC SD continuing to provide support, re-engineering and new fabrication of system components. The ATV serves as the Navy's unmanned deep-water asset on the west coast, complimenting Cable-controlled Undersea Recovery Vehicle (CURV III) on the east coast. In May, 1998, the ATV assisted the National Geographic Society in locating, mapping and photograping the wreck of the World War II aircraft carrier USS Yorktown, resting at the bottom of the Pacific Ocean, 16,650 feet below the surface.