---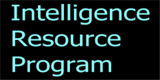 ---
September 2005 Intelligence News
Newer News: October 2005
From spies to hurricane scientists by Katherine Shrader, Associated Press, September 22. "Peering from space using the government's most covert satellites, a little-known spy agency is turning its cameras toward Hurricane Rita and the destruction it is expected to inflict on the Gulf Coast."
Intel chief: Iraqis in insurgency more elusive by John Diamond, USA Today, September 13. "U.S. intelligence is struggling to expose elements of the insurgency in Iraq made up of former members of Saddam Hussein's regime, John Negroponte, the nation's intelligence chief, said in an interview Monday."
Pentagon Briefing on ABLE DANGER, September 1. "To date we've conducted interviews with 80 people, and that is still ongoing.... Most of those people do not recollect the existence of a chart with the picture of Mohammed Attah on it, or again, other hijackers pre-9/11. We have identified three other individuals besides Mr. Schaeffer and Captain Philpot who have a recollection of either a chart with a photo of Mohammed Attah or a reference to Mohammed Attah. That's basically where we are."
Older News: August 2005
---
---
http://www.fas.org/irp/news/2005/09/
Maintained by Steven Aftergood