---
CHAPTER 8
ECHELONS ABOVE CORPS BATTLEFIELD TECHNICAL INTELLIGENCE
This chapter describes the mission of battlefield TECHINT and the organizations that manage and support TECHINT requirements. The Army's one active component TECHINT unit is used to show doctrine common to all contingencies and theaters of operation.
TECHINT is one of the five intelligence disciplines and consists of S&TI and battlefield TECHINT. DOD and national intelligence activities manage and conduct S&TI collection and production. S&TI supports strategic level TECHINT production. Battlefield TECHINT supports operational and tactical levels of intelligence. The IEW system includes theater echelon MI units (TECHINT) to manage and conduct the battlefield TECHINT effort. (See FM 34-54.)
BATTLEFIELD TECHINT STRUCTURE
The Army has just one TECHINT unit in the Active Component, an MI battalion (TECHINT). The balance of the TECHINT force is in the RC. These companies are assigned to each theater's MI battalion (operations) as a roundout unit. The organization and functions of the MI company (TECHINT) are the same for both active and reserve forces (see Chapter 4).
The MI battalion (TECHINT), currently a provisional unit, is subordinate to INSCOM. The battalion has both an extensive peacetime mission and a worldwide TECHINT contingency support role.
In case of war, the unit deploys to a turns over Cē to the force commander's MI brigade. In wartime the battalion establishes a CMEC to manage TECHINT collection and countermeasure production until augmented, reinforced, or relieved by the MI brigade's assigned roundout reserve TECHINT company.
THE BATTLEFIELD TECHINT MISSION
The mission of a MI unit (TECHINT) is to provide supported force commanders with--
Analyses and exploitations of foreign and technical CEDs, equipment, weapon systems, and other war materiel.
Reports on the capabilities and limitations of enemy combat material.
Reports alerting the command to the tactical threat posed by technical advances in new or recently discovered foreign and enemy materiel.
Countermeasures to any enemy technical advantage.
Foreign and enemy equipment for troop familiarization and training.
Recommendations on the reuse of CEM.
On-site supervision of evacuations of items of extreme interest to TECHINT analysts.
A coordinated, timely, and continuous flow of information and TECHINT to requestors and taskers.
Task-organized battlefield TECHINT teams to support a subordinate command's TECHINT effort.
The MI battalion (TECHINT), shown at Figure 8-1, consists of an HHC and at least one TECHINT company. The MI battalion (TECHINT) task organizes TECHINT teams from its organic and attached resources to support corps and divisions as necessary.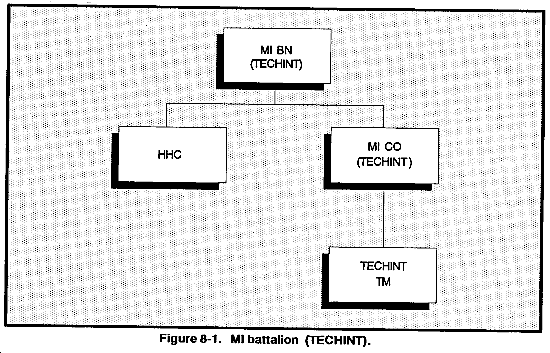 HEADQUARTERS AND HEADQUARTERS COMPANY
The HHC provides Cē for all organic and attached battalion elements, supplies, and support services. It coordinates and depends on the HHC of the MI brigade for all maintenance, food service, and miscellaneous support not organic to the battalion.
The battalion commander is the supported force commander's advisor on all matters relating to TECHINT and technical countermeasures. The commander is also the director of the CMEC, which conducts the theater's overall TECHINT exploitation and production effort.
MI COMPANY (TECHINT)
The TECHINT company has the bulk of the battalion's subject matter experts (SMEs). These SMEs perform laboratory and on-site analysis of CEM of interest to the CMEC. They seek to determine a system's characteristics, potential, and vulnerabilities in order to develop countermeasures that will neutralize any advantage the system offers the enemy.
The individual platoons begin the source directed requirements process by routing questions for interrogators to use in exploiting personnel with specific and critical technical knowledge (see Chapter 6). The MI company (TECHINT) is organized as shown at Figure 8-2.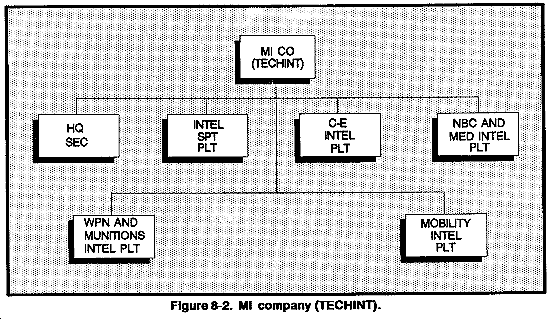 Intelligence Support Platoon
This platoon provides limited illustrator, editorial, and photographic support to the CMEC and deployed battlefield TECHINT teams. Part of the CMEC's mission is to provide handbooks and publications on how our soldiers can reuse, render safe, or destroy captured enemy equipment (CEE). This platoon supports that effort and provides appropriate photographs, diagrams, sketches, or charts to supplement other written reports and analyses.
Communications-Electronics Platoon
This platoon provides C-E technical expertise and analytical support to the CMEC and deployed battlefield TECHINT teams. Its purview concerns enemy communications or electronics equipment. It is responsible for laboratory and on-site exploitation of new and critical items, often resulting in extensive and detailed reports. Countermeasure production requires close integration with TAREX activities and elements.
NBC and Medical Intelligence Platoon
This platoon provides SMEs who analyze and counter enemy technological advances in chemical warfare and medical procedures, equipment, and systems. The CMEC's efforts in this area require close coordination among TECHINT specialists, the staff chemical officer's NBC teams, and the staff surgeon's intelligence effort.
Weapons and Munitions Intelligence Platoon
This platoon provides enemy weapon systems expertise and analyst capability in the laboratory and in the field. This requires close coordination with capturing units, engineers, and explosive ordnance disposal (EOD) teams. Platoon specialists typically exploit enemy armor, antitank guided missiles, smoke devices, mines, and non-nuclear munitions.
Mobility Intelligence Platoon
This platoon provides subject matter expertise on enemy mobility capabilities. TECHINT reports on this subject are crucial during IPB when enemy capabilities are integrated into weather and terrain conditions. Typical items historically exploited are enemy river crossing systems, amphibious equipment, tracked vehicles, enemy engineer equipment, and rotary-winged aircraft. Close coordination with combat engineers is often necessary.
The theater's TECHINT unit forms a CMEC from its own assets to conduct and coordinate the command's battlefield TECHINT effort. Other technicians and specialists in disciplines such as medical, EOD, and engineering may augment it. When SMEs from other services augment the CMEC, it becomes a joint captured materiel exploitation center (JCMEC). When SMEs from other nations augment it, the CMEC becomes a combined captured materiel exploitation center (CCMEC).
Ideally, the CMEC is located in the theater rear near main supply routes, airports, and seaports. The site must be conducive to positioning the sensitive and sophisticated test equipment needed by the CMEC. Analysts, technicians, and scientists use this equipment to conduct the detailed and time-consuming examinations which are impossible for deployed TECHINT teams to perform.
The CMEC exists to provide the force commander countermeasures to enemy combat systems. It rapidly disseminates combat information and processed intelligence of a perishable nature to those who need it. The CMEC inputs all technical information obtained into the IEW system for further processing into all-source intelligence products.
CMEC MISSION
The CMEC has the same mission as the MI company (TECHINT) and is formed from personnel from the company. Figure 8-3 shows the TECHINT tasking and reporting channels that would be established within a theater. A CMEC is created only during wartime or contingency operations. Its mission includes--
Determining disposition of captured items, including evacuating items collected.
Supporting the PIR and IR development process by giving the EACIC a list of TECHINT items wanted for CMEC exploitation.
Establishing liaison throughout the AO with collection points, civil affairs, interrogation, EOD, NBC, and logistic operations to facilitate identifying CEM of interest to the CMEC.
Establishing and operating laboratories and analysis facilities for exploiting CEM.
Supervising on-site collection and evacuation of items of priority interest to the CMEC.
Task-organizing TECHINT teams from its own resources to provide DS, GS, and GS-R to a subordinate commander's TECHINT efforts.
Providing countermeasures to advances in enemy technology.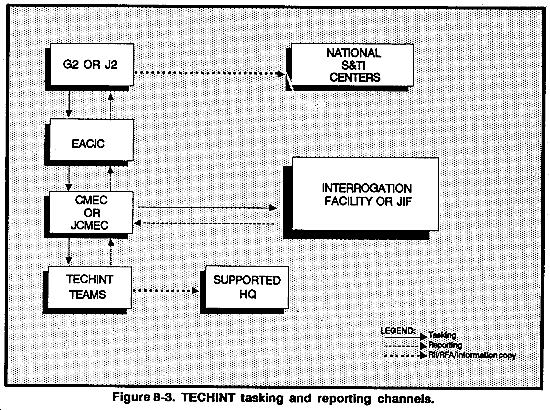 CMEC SUPPORT TO CORPS AND BELOW
The CMEC supports ECB by answering all spot reports regarding the capture of suspected or known TECHINT materiel and providing the capturing unit with disposition instructions. The CMEC--
Coordinates evacuation for subordinate echelons in accordance with procedures established in the theater.
Publishes a wide range of pamphlets explaining how to defeat, render safe, and even reuse enemy systems encountered on the battlefield.
Supports subordinate echelon commanders by organizing and deploying TECHINT teams to coordinate their battlefield TECHINT effort.
The IEW architecture requires one battlefield TECHINT team within any particular theater. It is the CMEC subelement assigned as the TECHINT SDT in the EACIC production section (see Chapter 4).
The CMEC task organizes other battlefield TECHINT teams, as necessary, to further facilitate the force commander's TECHINT effort.
There are no standard rules on team composition, mission, or deployment area.
The CMEC organizes a TECHINT team's composition according to the mission and SME assets on-hand. If a team is to serve as a corps "mini-CMEC," it will probably have at least one of each type of specialist available. If a team has only the task to supervise an enemy tank evacuation, then it might need only one armor SME and one evacuation technician.
The theater commander may instruct the CMEC to form and deploy battlefield TECHINT teams to conduct different types of missions, to include--
DS to ECB to specifically support subordinate commander TECHINT countermeasure requirements. This would include serving as a "mini-CMEC" for the corps or division G2.
GS-R to perform preliminary TECHINT examinations within a corps AO. This might include evaluating battle damaged friendly equipment to analyze enemy weapon system capabilities.
GS to corps until an RC TECHINT roundout company enters an AO. After arrival of the reserve TECHINT element, this team might stay behind to serve as the theater CMEC's liaison at the various collection and evacuation points in the theater AO.
"GO" teams sent forward on a one-time basis to perform specific on-site exploitations or to supervise critical evacuations.
The IEW system must be prepared to handle the different types of reports generated as a result of the supported command's TECHINT effort. The reports range from low technical size, activity, location, unit, time, and equipment (SALUTE) reports coming into the system from capturing units to high technical analyst reports from the CMEC en route to national S&TI centers.
THE SALUTE REPORT
Battlefield TECHINT doctrine operates under the premise that only those captured items wanted by the CMEC will be exploited onsite or evacuated to the CMEC. This means a lot of equipment will be left on the battlefield for routine logistics disposition. Capturing units must use common sense and their PIR and IR to decide if an item might be of interest to the CMEC. They verify their decision by spot reporting the item's capture through higher headquarters to the first echelon with an organic or attached TECHINT element.
The spot report is in the SALUTE format. Once the CMEC learns of the capture, it sends disposition instructions back to the capturing unit. These instructions could range from "send more information" to "prepare for item's evacuation as follows" to "destroy in place."
The SALUTE report is used because it is fast, does not clutter communication channels, and includes enough information for the CMEC to decide disposition or if it needs more data. Examples of SALUTE reports used to transmit intelligence information are in FM 34-2, FM 34-52, and FM 34-54.
PRELIMINARY AND COMPLEMENTARY TECHNICAL REPORTS
Battlefield TECHINT teams normally report initial and secondary examinations of CEM using either a preliminary technical report (PRETECHREP) or a complementary technical report (COMTECHREP).
A PRETECHREP--
Includes a general description of the item reported and recommended render-safe procedures.
Alerts others to significant technical data that can be used immediately by tactical units.
A COMTECHREP is more in-depth. It--
Follows a secondary or an in-depth initial examination.
Allows the CMEC to compare significant information obtained to information already in its data bank.
OTHER TECHNICAL REPORTS
At each successive echelon of exploitation TECHINT analysts add to the overall body of information on an item by either adding to previous reports or by preparing new reports. The CMEC or other national level S&TI activities prepare more advanced technical reports and analyses. The IEW system must be prepared to disseminate these and all TECHINT reports to the lowest echelon necessary. These reports include--
Detailed technical reports.
Translation reports.
Special technical reports.
Other TECHINT products include--
CMEC publications such as operator manuals, maintenance manuals, TECHINT bulletins, and tactical user bulletins.
S&TI analysis bulletins.
Foreign materiel exploitation reports.