---
---
Note: In April 2002, the Defense Department announced changes to its Unified Command Plan, creating a new Northern Command and shifting geographic areas of responsibility of several other commands. See the DoD announcement here.
---
United States Central Command USCENTCOM
U.S. Central Command (USCENTCOM) is one of the nine Unified Commands in the Department of Defense. The command headquarters, located at MacDill Air Force Base, in Tampa, Florida, is composed of approximately 1,000 Soldiers, Sailors, Airmen, Marines and civilian employees. USCENTCOM is the administrative headquarters for U.S. military affairs in 20 countries of the Middle East, Southwest Asia, Northeast Africa, and the Arabian Gulf. The Command was established by President Reagan in January 1983 as the evolutionary successor to the Rapid Deployment Joint Task Force. As needed, the command draws on personnel from the operating forces of each military service. USCENTCOM is one of only two warfighting commands whose headquarters is not physically located in its area of responsibility.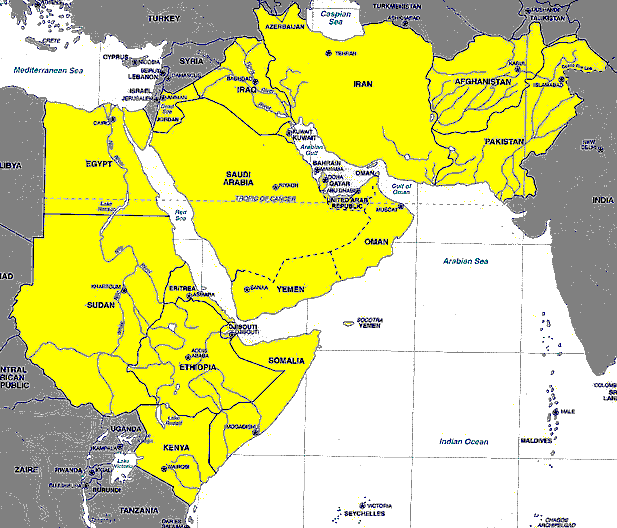 USCENTCOM's area of responsibility includes Afghanistan, Bahrain, Djibouti, Egypt, Eritrea, Ethiopia, Jordan, Iran, Iraq, Kenya, Kuwait, Oman, Pakistan, Qatar, Saudi Arabia, Seychelles, Somalia, Sudan, United Arab Emirates and the Republic of Yemen. This region contains more than 70 percent of the world's oil reserves, making it vital to the economies of the United States and its allies. It also includes the major maritime trade routes linking the Middle East, Europe, South and East Asia and the Western Hemisphere, and maritime choke points such as the Straits of Hormuz and the Suez Canal. The U.S. forward presence in the area is flexible and functions to support U.S. foreign policy and our allies in the region. During Operations Desert Shield and Desert Storm in 1990-1991, the command coordinated the activities of 541,000 U.S. and 258,000 coalition forces to oust Iraqi forces from Kuwait.
Subordinate Units

U.S. Central Command Air Forces (CENTAF) at Shaw AFB, SC
U.S. Naval Forces Central Command (NAVCENT) in Bahrain
U.S. Marine Corps Forces Central Command (MARCENT) at Camp H.M. Smith, HI
U.S. Special Operations Command Central (SOCCENT) at MacDill AFB, Tampa, FL
Sources
---
---
http://www.fas.org/irp/agency/dod/uscentcom/
Created by John Pike
Maintained by Steven Aftergood

Updated Tuesday, November 11, 1997 7:52:38 PM